October 8, 2019
Reminder to Membership on Recreational Vehicle season on Lots
Our Community offers its members fantastic opportunities to enjoy nature through recreational vehicle camping.   To everything there is a season, and the RV season lasts from April 1st through October 31st.  Homes that have approved RV screening may continue to have their RVs parked at their residences beyond that date. Recreational lots (lots without a constructed residence) must remove their RVs to an approved storage site by the end of October.  The Membership approved this in our Rules and Regulations, Section 3. Recreational Vehicles and Equipment.
All rules generally have an exception, and in this case the only exception is for Members who are building their home, they may obtain a permit to live full time in their RV during the 1 year building cycle.  If this is the case, please contact the office so we can help you obtain the proper permit.  For all other recreational vehicles (travel trailers, campers, tents and other equipment), be aware we are approaching the November 1st date that states all RVs shall be removed from individual recreational lots.
If you have a Recreational Vehicle please be aware the CCA Compliance Specialist includes monitoring for this during her normal tours.  If you have an issue, please contact the office to discuss with the General Manager.
Thank you.
---
September 4, 2019
Effective September 9, 2019
---
August 21, 2019
The Community Property Committee (CPC) meeting scheduled for September 12th has been moved to September 24th at 7pm at the office. We apologize for any inconvenience!
---
August 18, 2019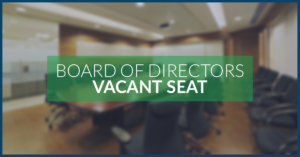 We are actively searching for a dedicated member of the community to fill a vacant seat on the Board of Directors. Our former Treasurer, John Moore, tendered his resignation last month and was effective at the end of the Annual Membership Meeting.
Anybody who is interested in serving on the Board is encouraged to submit a letter of interest either in-person to the office or by email to
info@clearwood.org
no later than
5:00pm on Thursday, September 12th.
All candidates being considered must pass a CCA Background Check. At the Regular Board Meeting
on Saturday, September 21st
, all candidates will have the opportunity to present to the Board and answer questions. The selected candidate will be announced and seated at the meeting.
---
August 13, 2019
Annual Meeting Update- Ballot Counting
The CCA annual membership meeting is this coming Saturday at Reichel Beach at 9:00 am.
In a change from past practices, volunteers will be counting ballots rather than staff. Ballot counting will be performed inside the Association office starting Saturday morning. All ballots will be counted twice by two different groups to maintain integrity.
We are seeking three members interested in being observers to attend. Observers will be seated near the volunteer counters to enable full view of the process. The observers will not be allowed to engage in any conversation during the counting process.
This change brings more transparency to the voting process and places the control of the vote into the hands of the membership.
Members in good standing interested in being an observer are asked to send an email to info@clearwood. Volunteers will be selected on first come first served basis.
If you have questions, please contact the General Manager at gm@clearwood.org.
Thank you.
---
August 13, 2019
The Association will be auctioning off 5 or 6 small watercraft during the noon hour Annual Meeting Potluck. Bidding will start at $20. Pictures to be posted shortly. Checks or exact change accepted. Boats purchased must be removed by end of day.
Please direct your questions to info@clearwood.org.
---
August 13, 2019
Clearwood RV Dump Update
The newly refurbished RV Dump will be back in service August 27th.
We apologize for what inconvenience this improvement may have caused. The work performed is solid and dependable quality, and will serve us for many years.
Thank you for your patience.
---
August 13,2019
Come join us August 24th at 10:00am Garden Club will be meeting at Reichel parking lot, than car pool to Andrew Boyd's house where he will teach on "Resilience Minded Gardening and Locally Adapted Heirlooms". If interested in joining Garden Club please call Cookie at 253-841-0274.
---
August 8, 2019
Attention Members:
Sometime last night, someone cut the fencing at the maintenance yard and the community's Orange and black Kubota RTV 1100 was stolen. We have notified law enforcement, are reviewing our security cameras and are offering a $1000 dollar reward for information leading to the arrest of the person responsible for stealing the RTV.
Please email info@clearwood.org with any information. Thank you for your assistance in catching the person responsible!
---
August 7, 2019
The Community Property Committee (CPC) has had a meeting date change. They will be meeting Wednesday, August 7th instead of Thursday. The meeting will be at 7pm at the Clearwood Office. All members are welcome to attend!
---
INVOICING FOR CLEARWOOD COMMUNITY ASSOCIATION
February 13, 2019
Dear Clearwood Community Members,
We know there has been some confusion in the billing with our new system. Members should have received two statements:
One overviews the Assessments. This includes the 2019 Annual Assessment in the amount of $555.00. It also shows any past due balances from prior years.
The second statement includes two invoices: One for the Annual Water Base Rate of $185.00, plus the Quarterly Water Consumption (January's Water Bill).
Please note, the Annual Assessment and Annual Water Base Rate, in total, is $740 which is known as the Annual Membership Dues. No rates have increased or decreased, they are just now separate statements. A total breakdown of our Assessments, Fees, and Fines can be found under the Community tab.
Some of the quarterly water bills, specifically those with tier-two and tier-three assessments, were billed incorrectly. There are some members who received duplicate bills for the Annual Water Base Rate, and some who's Annual Assessments did not generate. Our bookkeeper and her team are auditing the entire member invoice system to make sure accurate amounts are shown, removing duplicate entries, and processing invoices for any members without Annual Assessments.
Our aim is to have the systems corrected by February 28th and all quarterly water bills that were improperly assessed are corrected and re-sent to those members.
No late fees will be assessed until after March 31st which gives all members the opportunity to view their corrected bills and have time to pay within the 30 days. We are ensuring future billing will not have these errors and as we work out these new systems, new processes and procedures will be implemented to ensure future errors are avoided.
Sincerely,
Clearwood Community Association